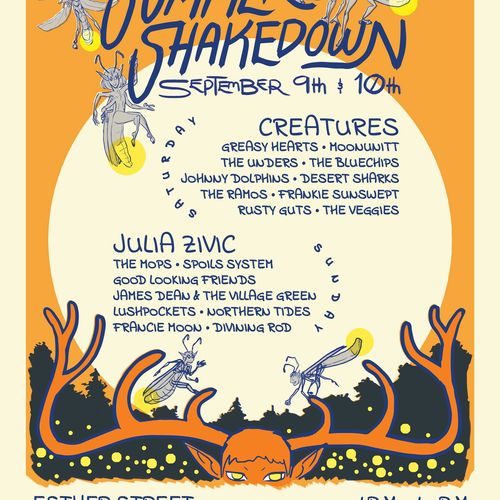 Aaaaand We're Back
New shows, New releases, New Songs
Hey y'all- How's your summer going? Good? Hope so, duders.
Me? I've been busy readying the release of a couple of new singles (coming to ya in the fall). We also have a new EP coming January of 24. Check back here for more news.
There's a whole mess of new shows coming up (like this cool festival featured in the pic to the left) so check out or SHOWS page to find out more.
Lastly, I've been writing new songs for an in-the-works new theme record that I'm super jazzed about. I'll be previewing those songs at our shows, so get your behinds out to one of our gigs.
That's it for this hot minute. I'll be back soon.
Alright, good talk (fist bump).
MF

We've been playing a ton of shows, y'all


YOU CAN STREAM OUR BEBE RECORD THRU THESE JOKERS

OUR NEW BEBE RECORD IS BORNED!!


OUR NEW VIDEO FOR OUR SINGLE, GOAT, IS ALSO READY 4 UR EYEBALLS


OUR NEW SINGLE IS NOW AVAILABLE, Y'ALL!

NEW SINGLE & VIDEO COMING 4/14

Guess what, y'all? We done entered the NPR Tiny Desk Contest with this live one take version of ANOTHER ENDLESS NIGHT, which happens to be our next single coming out 3/17! Our friends and neighbors helped us out and the result is awesome! Like 'n share, ya hear?

Follow our Bandcamp, my dudes

Heya- It's Bandcamp Friday which means that the lovely folks over at BC have waived their share of sales and gives all artists who use their site 100% of pie. Please consider buying our little ol' single and add it to your personal playlist and whatnot. Much 💖 and 🙏.
We now be part of a Pop/Dancehall playlist, y'all

Become a monthly listener!

We're on this awesome playlist as well!

We're on this awesome playlist too!

We're on this awesome playlist!

Mason County Line is live and ready for your ear holes! We're so excited to share our new single with y'all! Stream, purchase and share!

Countdown to our video release! Thursday Dec 15 at 8PM EDT! Here's a lil ol' preview....
Bear Mtn 3 and We Made A Dang Video!
Divining Rod Band Recording At Virtue & Vice Studios
Circle Line Spring Fling Week 5 Finale
Circle Line Spring Week 3 & 4
Circle Line Spring Fling Residency - Week 2
Circle Line Spring Fling Week 1
Pt 3: Reconnect With Friends
LIVESTEAM SOLO SHOW VIA TARRYTOWN MUSIC HALL
New Video Alert: Quarantine Cover #4
New Video Premier - FRI OCT 16
Livecast for Tarrytown Music Hall - Oct 21 - 6 PM