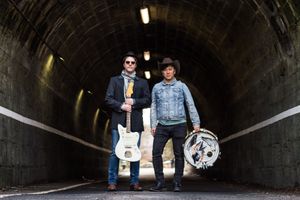 Bio
Divining Rod emerges from the pandemic with the release of an exciting new record. 
A residency on New York's legendary Circle Line Cruises included playing long hours to rowdy audiences for two months. With Anthony TJ 'Rocky' Gallo (Cigarettes After Sex, John Legend), the well-seasoned band recorded and mixed 12 songs over a few days at Virtue and Vice Studios. Most of the tracks on Santa Monica & Other Golden Classics were recorded live over a few days. Songs that are melodic, playful, rowdy, and tender, swathed in reverb and played with heart. 
Originally, Divining Rod was the solo project of Hawaiian native Miyuki Furtado of the former TooPure recording artists, The Rogers Sisters. After recruiting guitarist Patrick Harmon, Furtado started playing shows handling guitar, vocals, and drums - utilizing his homemade suitcase drumset while Harmon added his unique guitar playing and harmonies to the mix. Second drummer John Malone and bassist Matt Svigals round out the band.